Views: 353
Read Time:
4 Minute, 15 Second
Social Media came into the picture as a platform to communicate, interact and chat with family and friends, make new connections, and of course to see what's trending!
However, due to its large user base, eCommerce brands started leveraging social media platforms as a part of their marketing strategy and promoting their products and services.
Soon enough, social media itself realized how the users have made these platforms an important part of their daily routine and have started using these platforms for their shopping-related inspirations as well.
And then came into existence the concept of Social Commerce that allowed brands to promote and sell their products on social media platforms.
Brands and shoppers widely welcomed the concept of Social Commerce since it is a win-win situation for both.
However, brands often get confused about which platform to use to gain maximum sales and profits.
In this blog, we shall be telling you about the 6 best social commerce platforms that you can utilize to boost your brand and business performance.
Let's get started!
Instagram – Shoppable Instagram Feature
With a user base of around 500 million daily active users, Instagram is one of the most highly leveraged social media platforms, mostly dominated by visuals. 
Instagram is a photo-sharing platform that enables users to click a picture, edit it using their favorite filters and then post it instantly on their feed.
The Shoppable Instagram feed feature emerged in 2018 and allowed Instagram users to shop by tapping on the posts to check the price and other product specifications. The checkout feature in 2019 enabled users to complete the buying journey without leaving the platform.
Being such a vibrant platform, users use Instagram for 'window shopping,' and it surely tops the best social commerce platforms!
Facebook – Facebook Shop
Started about 17 years back, Facebook started the entire trend of having a presence on social media!
Facebook is one of the most popular and highly growing social media platforms that users are widely utilizing all across the globe. 
When social media platforms started welcoming the concept of social commerce, how would Facebook stay behind?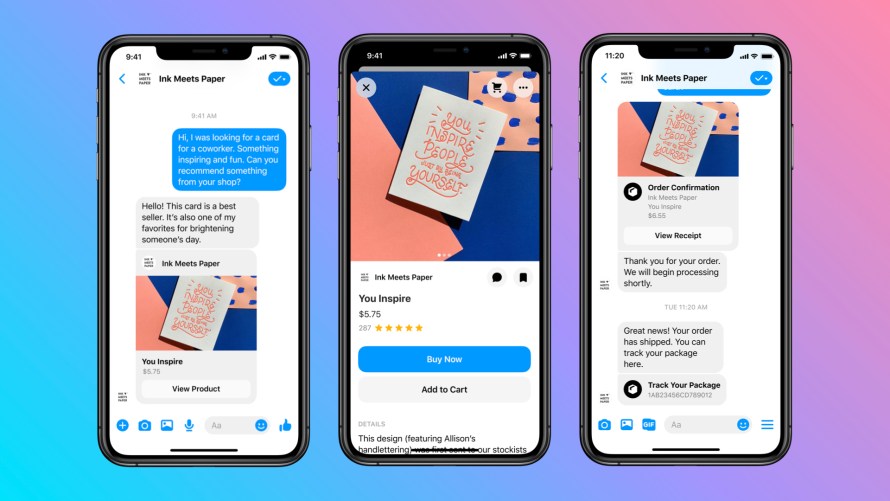 To increase the reach and presence of brands and businesses on social media, Facebook launched a feature called Facebook Shop for all businesses and brands, big or small.
This feature allowed businesses to create a Facebook Shop on the platform and let the users customize the shop using the customization options.
Pinterest – Pinterest Buyable Pins
With more than 450 million monthly active users, Pinterest also falls under visual-dominated platforms like Instagram.
Like Instagram, Pinterest users also use the platform for 'window shopping' and inspiration, and users simply pin their interest in a section called the board.
Pinterest introduced the buyable pins option to the users to buy products from various brands while staying on the platform.
Snapchat – Filters & Augmented Reality
Even though Snapchat does not entirely fall in the social commerce platform category, the fun filters and usage of Augmented reality by the platform allow users to 'Try out the products before making a purchase.
Looking at the platform's potential, the famous e-Commerce platform Shopify has partnered with the platform for brands to showcase their products innovatively.
YouTube – Selling Through Videos
YouTube is the most highly used social media platform, mainly used by users to surf videos and audio.
The concept of YouTube shopping allows brands to promote and sell their products through videos and display a catalog to explore the products and complete the purchase without leaving the platform.
Videos, being much more engaging and descriptive, can connect and interact much better with the audience. Videos can seamlessly tap better into the emotional quotient of the users and compel them to complete their purchase.
The best part is that the users do not have to stop the video or redirect to complete the purchase. They can do so easily while watching and enjoying the video.
Amazon Live – Sell By Directly Connecting With The Customers
The famous eCommerce platform Amazon also jumped into the bandwagon of social commerce by introducing Amazon Live.
Amazon Live allows brands to go live and interact with their potential customers, attend to their queries, listen to their feedback, explain the specifications of their products, and give a live tutorial all at once!
This way, the brands can maintain a personal connection with their customers and change the audience's perception of the brand. Moreover, it instills more faith in the customers, and they may feel the need to shop products from the brand.
Final Words
Social Commerce is a concept that needs to be utilized by every e-Commerce brand. It is the most result-driven strategy that can skyrocket the profits and sales of brands.
Since you know are aware of the best social commerce platforms to gain success, choose what suits you best and adopt social commerce as a part of your marketing strategy immediately!